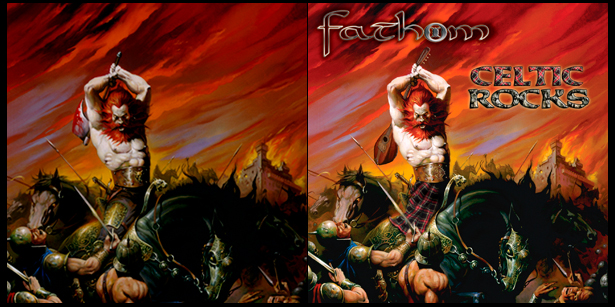 Fathom first approached Ken while recording their 2005 "Celtic Rocks" album. "We knew we wanted some sort of fantasy art to represent the new recording. I looked at all the best album covers in rock history that featured fantasy art. I kept coming back to MANOWAR and KISS in my mind, and after doing a search on the internet I was amazed to find Ken Kelly had created art for both of those bands, and to my suprise; Rainbow Rising as well. What really shocked me was that Ken was also the artist for so many of the covers of Conan novels I already had in my collection. Without knowing it, I had been looking at Ken's art for a long time. From that point, I knew we would work with Ken. Perusing his collection for inspiration, I came across Ken's painting of the Karl Edward Wagner character Kane. I instantly saw him as a kind of barbaric "highlander", a perfect representation of the mixture of heavy rock and traditional celtic music on our recordings." - (John DiBartolo of Fathom)
Needing to "celtify" the warrior on the horse, and give him the personal Fathom touch; the band digitally painted mandolin player John Farrell's kilt onto the crazed barbarian. The bloody axe was transformed into a long-necked mandolin about to be bashed over the heads of all who get in this highlander's (or Fathom's) way. Fathom's unique use of Ken's art demonstrates how a band can obtain "second rights" usage of Ken Kelly's art, and make it all their own.
On their 2008 release, "The Last Battle", Fathom once again used a Ken Kelly image.
This time the warrior is mysteriously covered in armor without his kilt and long red beard, reflecting the band's departure from the traditional celtic themes on previous albums. This time the music was as heavy as the horse, but the celtic influnces remain, as it seems the mandolin (with a shorter neck)had survived the previous battle, and is strapped to the horse's saddle, with the warrior favoring his long axe.
The warrior stares off into a misty valley contemplating the realms to be explored and conquered in the future.
Fathom website: https://open.spotify.com/artist/4DJQQF4h5uihr1OYnCNIsn

Fathom later changed their name to KING KELTIC